The Suunto Core All Black Outdoors Watch is a tried and tested favourite among premium outdoor activity watches. With the combination of powerful environmental sensors and advanced computer wrist-top technology, it boasts high-performance functionality. Technical data such as altitude, air pressure and air temperature are available at the press of a button and an in-built compass ensures the Suunto Core truly is an all-round and practical outdoors activity watch.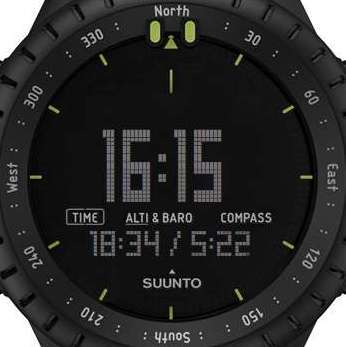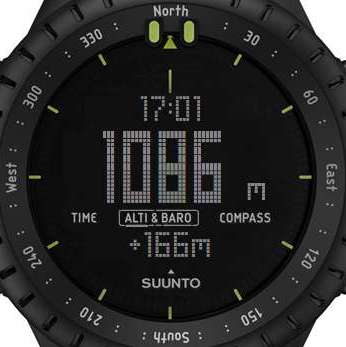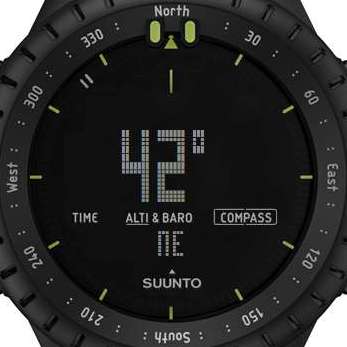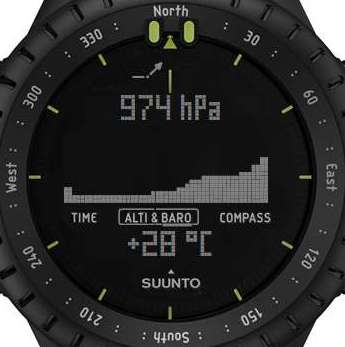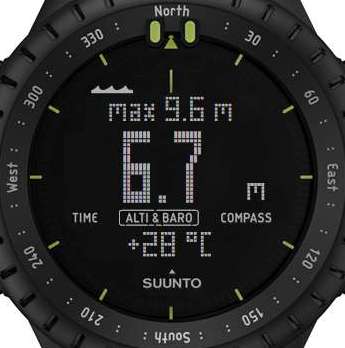 Weather Monitoring
Barometer range: 300–1100 mbar
Air temperature thermometer: -20°C to +60°C
Storm warning
7-day weather memory with trend graph and trend indicator
By keeping an eye on weather systems and local conditions, the Suunto Core keeps you ahead of the game. To allow detailed information on air pressure and therefore probable weather, the Suunto Core features an in-built barometer.
The 7-day weather memory uses the current sea-level pressure as a base mark and records the last 24 hours (in 30-minute intervals) to give a detailed run down of how the pressure is changing. Should pressure drop suddenly and dramatically, indicating bad weather, the Suunto Core also features a Storm Alarm to ensure you are alerted to the situation.
Using an intelligent barometer/altimeter switch, the Suunto Core senses movement or lack of it, so when ascending a change in altitude is recorded. When stationary, the barometer kicks into action making sure that changes in pressure are recorded as such, and not changes in altitude.
Altimeter
Altitude range 500–9000 m
Log graph to record ascents/descents – accessible on computer
Changeable recording interval: 1 sec, 5 secs, 30 secs, 60 secs
Perfectly suited to uses where knowing exact ascent/descent may be essential, the Suunto Core uses a state-of-the-art multi-functional altimeter. Get real time data on screen or re-live the journey back home with the 7-day logbook recording all the data. Review changes in altitude, duration of ascents/descents as well as average speeds on the ascent or descent.
Compass
North indicator and cardinal directions
Heading in degrees with bearing tracker
Declination setting
Guided calibration
A fully functional and reliable compass, the Suunto Core is ideal for any outdoor enthusiast. A perfect navigational aide, with the ability to mark a bearing or walk on it - or for the traditionalist, this model of Suunto Core can use a rotating bezel in the same way you would use a conventional compass.
The handy declination adjustment takes on the job of calculating North, correcting the difference between true North and magnetic north with the minimum of fuss.
Durable and Strong
Mineral crystal glass
Hardcore casing waterproof rated to 30 m, with underwater depth meter to 10 m
Operating temperature: -20°C to +60°C
The Suunto Core was built for the outdoors, the rougher and tougher the better! Able to withstand incredibly high or low temperatures and still function normally, the mineral crystal glass is specially designed to endure mechanical shocks and scratches.
Following Suunto's decades of underwater experience, the Suunto Core Outdoors is rated down to 30 m, however, it also features a depth meter. Giving accurate ratings up to 10 metres underwater, the Suunto Core is perfectly suited to snorkelling.
General Specification
Backlight type: Electro-luminescent display
Mineral crystal glass
Weight: 64 g
User-replaceable battery with low power warning
Rotating bezel
Button lock
12/24-hr display
Dual time
Predicted sunrise and sunset times for over 400 locations
Alarm snooze
Backlight for night use
Four-language menu options: English, German, Spanish, French
Sports chronograph
Countdown timer