The perfect fusion between a powerful GPS wrist-top computer and a high-tech training aid, the Suunto Ambit Black GPS HRM Outdoors Watch does what it says in the manual - and that's a lot.
With a huge amount of data available at your finger tips, including altitude, temperature, speed, heart rate, weather conditions and of course the time, the Suunto Ambit GPS + HRM is the very latest in a long line of Suunto outdoors performance watches. A sturdy construction and beefy feel inspire confidence even in the toughest, most extreme environments, and the multitude of functions gives performance above and beyond anything else on the market. Designed with the specific needs of an adventure market foremost, the Suunto Ambit GPS + HRM is built to the highest of specifications, making it the ideal tool for any outdoor enthusiast, from ultra marathon runners and extreme sportsmen to the casual mountaineer and climber.
Training Tool
Peak Training Effect: Technical measurements help keep your training programme in your optimum training band
FusedSpeed: An amalgamation of accelerometer data and GPS gives more accurate speed recording
Recovery Time: Based on duration and intensity of the session, works out recovery time
Movescount: Uploads training details to movescount.com to keep an accurate record
This impressive training tool boasts all the features you would expect from Suunto plus a few features unique to the Ambit GPS + HRM such as the patent-pending FusedSpeed technology and the redesigned Peak Training Effect feature. The Suunto Ambit HRM is able to give such functionality through the fusion of in-built GPS and a HRM chest strap, resulting in an impressive and unparalleled watch.
Peak Training Effect (PTE) is the souped-up version of the Training Effect measurements that previous Suunto models feature. By taking real-time analysis of physiological progress and comparing with your personal fitness profile, the Suunto Ambit calculates the impact at the peak of a session on your maximal aerobic performance. What this translates to is detailed information on what the workout will do for you in terms of fitness. The Suunto Ambit then takes the same data used to calculate the PTE in order to make an estimate of the required Recovery Time, giving you information on your base endurance levels.
A built-in accelerometer connects with GPS signals in order to give a more accurate real time recording of speed, distance and pace. Filling in the gaps when GPS technology may fail, for example in thick forest or tunnels, FusedSpeed reduces data error to give a more realistic picture. An adaptive filtering process allows for a shifting bias between GPS readings and the accelerometer to give accurate steady-speed data and quicker response to change in speed.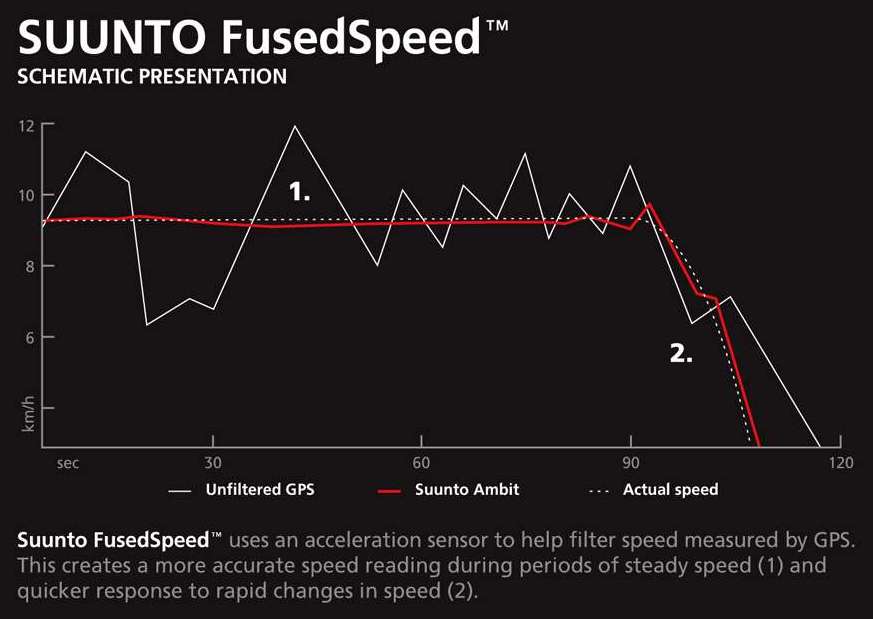 All the data collected whilst on the run can be uploaded to the www.movescount.com website where a detailed track of your progress will be recorded. On movescount.com, you can build your own training diary working towards a specific goal or just monitor your fitness levels, with the option to share and discuss with the movescount.com community.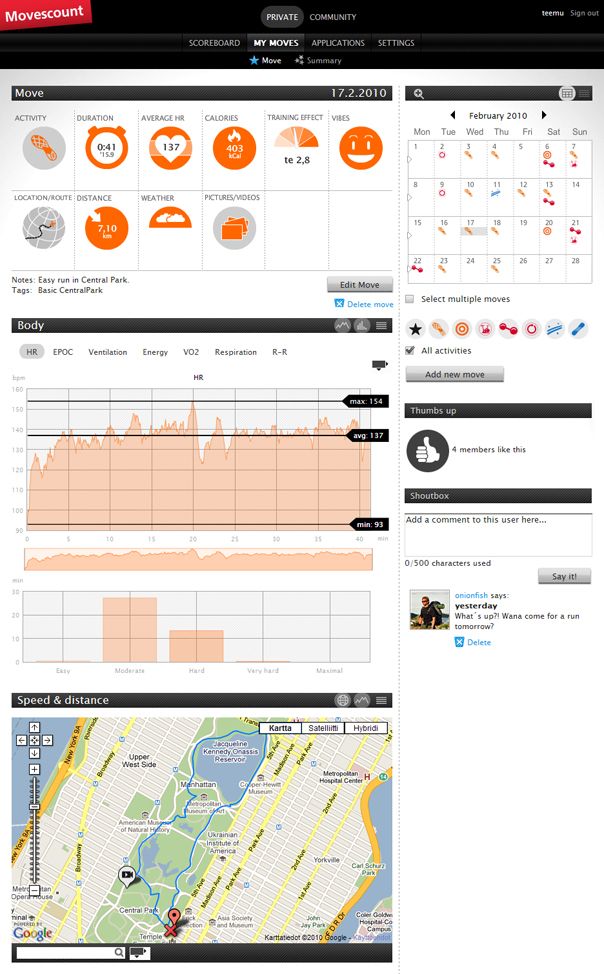 Mountain Tool
BuiltToLast casing: To handle rough treatment and waterproof to 100 m
SiRFstarIV GPS technology: Small and lightweight whilst giving precise readings
Integrated 3D compass: Gives bearings regardless of the angle of your wrist
Barometer/Altimeter: Record altitude while keeping an eye on weather conditions
Rechargeable Lithium-ion Battery: Better performance at low temperatures
Made with the adventurer firmly in mind, the Suunto Ambit covers the whole range of features required for hardcore outdoor usage. The one-piece composite case sports a mineral glass display designed to withstand mechanical shocks and scratching. The Suunto Ambit will not let you down, even in the worst weather conditions.
A high-sensitivity SiRFstarIV GPS chip gives accurate and precise readings whilst saving power with the ability to go into a sleep mode allowing for faster satellite connection than from a cold state. The Suunto Ambit has full waypoint functionality, an invaluable navigational aide and a unique 3-dimensional compass. Unlike a conventional compass, the Suunto Ambit does not need to be held level, but will give a bearing even with your wrist at an angle. It is able to give coordinates in a number of different systems and has the option of a military scale for armed forces use.
The barometric altimeter gives the most exact readings possible by taking information from air pressure as well as GPS. Furthermore, keeping an eye on the barometer and temperature readings can alert you to changing conditions and keep you ahead of the weather.
Although the Suunto Ambit is a high-performance watch and wrist-top computer, the battery life will keep you going for up to 30 days in watch mode with ABC functions! Obviously the more you use it, the less time you will get but even at full burn with short-interval GPS tracking, the lithium-ion battery can give 15 hours straight. There are no costly battery replacements with the lithium battery pack being rechargeable and use of lithium-ion means a better performance in low temperatures.
Full Specification
Specialized Outdoor Functions
Full-featured GPS (SIRF IV) with 3D compass including military scale
Barometric altitude and temperature readings
Barometer range 950-1060 hPa
Altitude range: -500 m to 9000 m
Full-feature 100 point waypoint navigation, with waypoint creation and storing in wrist unit and in Movescount.com
Location given in multiple coordinate systems
Mountain and Everyday Exploration
Robust built-to-last casing and mineral crystal lens
Water resistance: 100 m
Dark/light display switch
Ergonomic wristwear design
Rechargeable lithium-ion battery
50 hrs operating time in outdoor mode with longer GPS tracking intervals, suitable for hiking
15 hrs in full training mode with shorter GPS tracking intervals, suitable for running
30 days in watch mode with ABC functions
Advanced Training Functions
Stopwatch
Interval timer
Manual and autolaps
Heart rate (real time, bpm, HR%, average HR)
Adjustable HR zones, time in HR zones
Suunto ANT comfort belt
Training Effect
Recovery time
High-accuracy pace/speed (FusedSpeed) and distance from accelerometer integrated GPS
Suunto Bike POD compatibility
Customizable sport-specific modes in Movescount.com
General Specification
Time, date, alarm, dual time
User-adjustable backlight
Button lock
Low-battery indicator
Measurement unit selection
Wrist unit settings in Movescount.com
2-way data transfer and charging with USB cable
Upgradable with new functionalities through Movescount.com
Operating temperature -20°C to +60°C
Weight 78 g
Languages Menu in English (DE, ES, FR available through Movescount.com)
Compatible for use with PCs and with Mac version 10.6 or later
Update to software version 1.5 for new navigation and GPS features
Software version 1.5 adds new navigation functions including the ability to create routes and follow them using Waypoints, Logbook and Find Back functions, more informative views and enhancements to the GPS chip software.
Software update 1.8 brings new about new on-screen navigation features
On September 27th 2012, Suunto launched software version 1.8 for the Suunto Ambit bringing greater on-screen navigation. You can now download routes straight to your ambit and share your own online at movescount.com. Other improvements include a new local coordinate system, GPS time keeping, chrono function, constant backlight option as well as five new display languages.
And Now the Latest Update - 2.0!
The latest update available from 28th November 2012 makes the Ambit ANT+ compatible - but it also brings something really exciting to the table. The Suunto App Zone allows Ambit users to create their own apps using all of the information collected by the watch. Using this information in real time, the watch can display a huge variety of information on the screen. Ever wanted to know your blood alcohol content the morning after a big night? Or the gradient of the slope you're skiing down? With this latest update, there are no limits to what Ambit users can have displayed on their watch.