The Snugpak Expanda Sleeping Bag Panel is the answer to those tight, uncomfortable sleeping bags, and give you that extra room to breath when out camping.
Perfect for camping in really cold conditions the Snugpak Expanda Panel allows you to keep those extra layers on, the zip in wedge providing you with roughly 40cm extra chest room tapering to the foot which is around 7cm.
They are compatible with the Premier, Tactical and Special Forces ranges of sleeping bag. Please check before purchase, as Expanda Panels may be incompatible with older models of Snugpak Sleeping Bags.
The perfect solution to an age old problem, the Expanda Panels are available in the summer weight (Softie 3, Softie 6, Softie 9, Technik 1, Technik 2, Technik 3, Tactical 2, Tactical 3) and winter weight (Softie 10, Softie 12, Softie 15, Technik 4, Technik 5, Tactical 4).
Sleeping bag not included.
Please note: As expanda panels are made at different time in production to the sleeping bag, occasionally, the Expanda can appear up to 10cm longer or shorter than the sleeping bag. Although the zip tape length is exact, there is a variation on the amount of coil per zip, which the zip manufacturer explains as the "expected tolerance".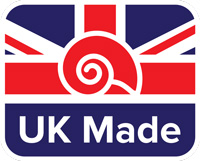 Proudly Made in the UK
Please note this product is made to manufacture and if shown as "Available for Order" will take an additional 10 working days from time of placing the order. If shown as "In Stock" the item is available for next day delivery.