The Suunto Ambit3 Peak GPS Multisport Watch takes all the superb features of the Ambit2 and adds Bluetooth Smart wireless connectivity to tablets and smartphones plus sport customisation to USB cable connectivity. It also provides compatibility with the Movescount App (initially compatible with iPhone/iPad; Android compatibility expected end 2014).
The Ambit3 Peak has all the features of the Ambit3 Sport and also has weather functions as well as twice the water resistance depth at 100 metres and, at 30 days, more than twice the battery life with GPS 60-second updates enabled.
This watch can give you up to 50 hours battery time on one charge even with GPS enabled.
The Suunto Ambit3 Peak is a superb all-round sports and outdoors activity watch with individual sport-dedicated features for swimming, biking and running.
With free access to the Movescount.com Suunto online sports community website, you can save, analyse and share your activities (your Moves) as well as planning your training programs or choosing from the thousands already stored on the site.
The Suunto Movescount App will initially be available for iPhone and iPad and can be downloaded from the App Store. Availability of the Android version will be announced later.
The heart-rate monitor function (not included) can be added to the Suunto Ambit3 Peak GPS Multisport Watch by buying the Suunto Smart Sensor or other Bluetooth Smart-compatible heart-rate monitor.
Suunto Ambit3 Peak Highlights
Advanced outdoor and multisport functions
GPS for speed, distance and mapping resources
Bluetooth Smart mobile connection with iPhone/iPad
Enriching, re-living and sharing your Moves on social media
Track Your Moves
With the Suunto Connected Family and the Ambit3 Peak GPS, you have a great package for tracking your sports activities and adventures. The GPS provides accurate speed and distance while the Ambit3 Peak offers specialised swimming, biking and running functions.
The Suunto Connected Family is Suunto's Bluetooth Smart compatible product range, which includes the Suunto Movescount App, the Suunto Ambit3 Peak GPS Watch and the Suunto Ambit3 Sport GPS Watch, each watch being available with or without the final member of the Family, the Suunto Smart Heart Rate Sensor and Belt.
Plan and Analyse
Movescount.com is the Suunto online sports community where you can analyse every aspect of your training with highly accurate tools and graphs. To plan your training, select a training program from the thousands available or create your own. Upload all your activities and choose how you want summaries and informative totals displayed in tables and/or graphics.
Suunto Apps
Visit the Suunto App Zone for great features to maximise the functionality of your Ambit Peak GPS Watch. If you cannot see what you want there, you can use the Suunto App Designer to create your own Suunto App and upload it to your watch!
Recovery Time
Wear your Suunto Ambit3 Peak throughout the day and let it monitor your exercise and your daily activity to produce better recovery time estimates.
Outdoor Functions
The Suunto Ambit Peak Watch is supplied with full route navigation for the freedom to explore without getting lost. Download routes from Movescount.com or make up your own. Ambit3 Peak also provides barometric information, altimeter with FusedAlti, storm alarm, sunrise/sunset indication and a battery life of up to 50 hours even with GPS active.
Smart Mobile Connection with iPhone/iPad
Notifications on the Watch
Using the Suunto Movescount App on your smartphone, stay up to date by seeing call, text message and push notifications directly on the Suunto Ambit3 Peak with no need to stop your training to see who is calling.
Customise on the Go
Connect the Ambit3 Peak to your smartphone using the Suunto Movescount App to change settings, customise sport modes and keep time and GPS satellite data up to date while on the go.
You can change general settings offline (e.g. device language, tone settings, time format). Customising sport modes requires an internet connection over Wi-Fi or cellular (carrier data fees may apply on cellular connections).
Sync Your Moves
The Suunto Movescount App on your smartphone automatically syncs your Moves in real time to Movescount.com.
Make Suunto Movies
The Suunto Movescount App offers a great way to share your Moves on social media. With one tap, you can turn your route into a Suunto Movie and share the adventure. The Suunto Movie visualises your route on a 3D map which includes key metrics and you can add photos from your adventure to tell the whole story.
Take Photos
Take photographs with real-time speed, distance or other details shown on the image. Share your photos instantly on your favourite social media and store them with your Move in Movescount.com.
Share and Follow
Add photos in your Moves and share them on social media. Join groups of like-minded people, follow them and race with your friends on Movescount.com.
Suunto Movescount App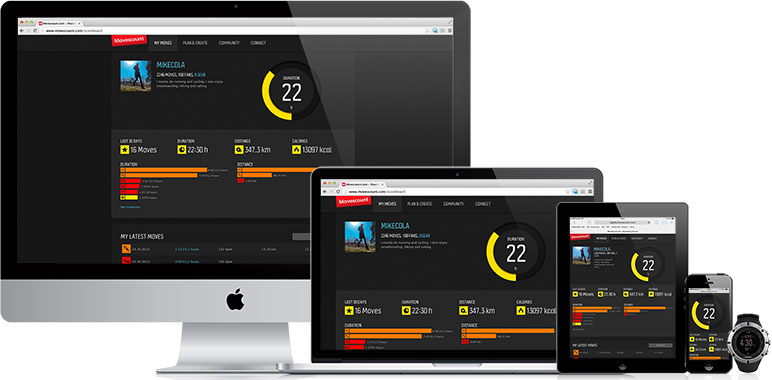 The Suunto Movescount App lets you take the online sports community in with you for free and easy sports tracking.
Your best experiences live longer when saved and shared. Join the Movescount sports community with the free Suunto Movescount App. Use the App by itself or pair it with the Ambit3 Peak. The App offers an easy way to track your latest run, ride or other sporting activity on the go and lets you enrich, re-live and share your adventures to make every Move special.
Movescount App Features
Track your sports on your smartphone with speed, distance, route and calories
View map during your exercise
Analyse and measure your progress in detail in Movescount.com
Take photos during your Move showing your current speed, distance and more
Create Suunto Movie of your Move with 3D map, key metrics and images
Share your experience instantly to social media networks
Customise your Ambit3 on go
You can change general settings offline (e.g. device language, tone settings, time format)
Customising sport modes requires Internet connection over Wi-Fi or cellular (carrier data fees may apply on cellular connections)
Compatible Devices with Suunto Movescount App:
iPad 3rd generation and later; iPad mini/iPad Air; iPhone 4s/iPhone 5/iPhone 5c/iPhone 5s; iPod touch 5th generation (iPhone and iPad are trademarks of Apple Inc)
Suunto Movescount App is available in, and Ambit3 Peak supports, notifications with characters used in English, Dutch, Finnish, French, German, Italian, Portuguese, Spanish, Swedish
Interface is designed for iPhone but App runs on iOS devices that fulfil criteria
Features
Outdoor and Multisport
Route navigation
Up to 50 hrs battery life with GPS
Compass
Altitude (FusedAlti)
Sunrise/sunset
Temperature
Activity-based recovery time
Speed, pace and distance
Bike power support (Bluetooth Smart)
Multiple sports in one log
Training programs
Growing feature set through Suunto Apps
Connectivity (with Suunto Movescount App and Smartphone)
Upload and share Moves instantly
Customise your watch on the go
Time and GPS satellite data up to date on the go
Use your phone as second watch display
See calls, messages and push notifications on watch
Enrich, Re-live and Share (with Suunto Movescount App and Smartphone)
Take photos during your Move showing your current speed, distance and more
Create Suunto Movie of your Move with 3D map, key metrics and images
Share your experience instantly on social media networks
In the Box
Suunto Ambit3 Peak
USB cable
Quick guide
Warranty leaflet
Dimensions
Size: 50 x 50 x 18 mm (1.97 x 1.97 x 0.71 inches)
Weight 89 g (3.14 oz)
Technical Specification
General
Water resistance: 100 m (acc to ISO 6425)
Battery life in time mode: 30 days
Battery type: Rechargeable lithium-ion
Firmware upgradeable
Time, date
Alarm clock: 1 daily alarm
Dual time
GPS timekeeping
Countdown timer
Stopwatch timer
User interface languages: EN, DE, ES, FI, FR, IT, NL, PT, SV
Backlight: LED
Configurable backlight: Brightness/mode
Button lock: Customisable
Invert display
Display type: Matrix
Display resolution: 128 x 128
Battery indicator: percentage/icon
Metric and imperial units
Suunto Apps
Compatible with Suunto Apps
Max no. of apps per sport mode: 5
Logging of app-specific metrics
Most recommended apps by activity
Create own metrics with advanced formulas
Chrono, GPS, HR, weather and altitude data
Running, cycling, swimming data
Rich maths functions, if/then logic, sound, backlight etc
Compass
Digital compass
Tilt compensation: Full
Direction scale: Degrees/mils
Needle: North indicator
Globally balanced
Bearing lock with orienting indicator
Declination correction
Compass accuracy: 5°
Compass resolution: 1°
Physical Specification
Operating temperature: -20°C to +60°C (-5°F to +140°F)
Storage temperature: -30°C to +60°C (-22°F to +140°F)
Connectivity
Watch customisation: Wireless/USB cable
Compatible with Suunto Movescount App
iPhone push notifications on watch
Use iPhone as secondary display of watch
Create and share Suunto Movies from your Moves with Suunto Movescount App
Photos with watch data overlays with Suunto Movescount App
Data transfer: Wireless/USB cable
Connectivity between devices: Bluetooth Smart
Compatible with Movescount
GPS Tracking and Navigation
Satellite system: GPS
GPS recording rate + corresponding battery life with GPS active: 1 sec/16 hrs; 5 sec/24 hrs; 60 sec/50 hrs
Waypoint and visual route navigation
Max no. of points of interest: 100
Find back
Track back
Track logging, viewing and sharing*
Route planning*
Route points per route/POIs in watch: 1000/100
Coordinate Systems
WGS84 Hd.d°; WGS84 Hd°m' s.s''; WGS84 Hd°m.m; UTM; MGRS; British (BNG); Finnish (ETRS-TM35FIN); Finnish (KKJ); Irish (IG); Swedish (RT90); Swiss (CH1903); UTM NAD27 – Alaska; UTM NAD27 – Conus; UTM NAD83; New Zealand (NZTM2000)
Altimeter
Barometric altitude
GPS altitude
Combined GPS and barometric altitude (FusedAlti)
Altitude graph
Total ascent/descent: Air pressure-based
Vertical speed: Air pressure-based
Altitude difference**
Log-recording rate: 1 sec, 10 sec
Resolution: 1 m
Range: -500 to +9999 m
Weather
Sea-level pressure
Seal-level pressure graph
Weather-trend indicator
Temperature
Temperature display range: -20°C to +60°C (-4°F to +140°F)
Sunrise/sunset times
Automatic alti/baro profile
Storm alarm
Tide information**
Pressure resolution: 1 hPa (0.03 inHg)
Temperature resolution: 1°
Max weather recording length: Preceding 26 hrs
Speed and Distance
GPS track recording:
Integrated GPS speed and distance
Distance-based autolaps
Log-recording rate: 1 sec, 10 sec
Training, Planning and Analysis
Chronograph
Laps: >1000
Autopause
Autoscrolling of exercise displays
Memory-left indicator
Speed-based guidance during exercise
Interval timers
Personalised workout guidance**
Fitness test**
Training plans downloadable from Movescount
Adaptive training plan in watch
Log summary on watch with lap details
Customisable sport modes and displays: 10 modes/8 displays per mode
Training analysis*
Training logbook with story and image support
GPS track analysis
Compatible with Strava and other communities
Activity-based recovery time
Multisports
Change sport mode during exercise
Pre-configured multisport modes
Multisport exercise summary
Post-analysis of multisport exercise by sport*
Running
Running pace
Suunto FusedSpeed
Average pace in real time
Running cadence
Average stride length**
Running efficiency**
Ghost runner
Marathon end-time estimator**
Lap comparisons by km/mile*
Cycling
Cycling speed
Average speed in real time
Multiple bike POD support
Hill incline in real time**
Bike power (W), average and maximum (with power sensor): Bluetooth Smart
Bike power 3 secs, 10 secs, 30 secs (with power sensor)
Bike lap and lap maximum power (with power sensor)
Power distribution and graphs* (with power sensor)
Peak power curve for peak power outputs* (with power sensor)
Normalized power (Suunto apps by Training Peaks)**
Aerodynamic drag in real time (with power sensor)**
Swimming
Pool swim pace and distance
Open water swim pace and distance
Swimming time by pool length, lap, total
Swimming stroke rate, count and type
Swim styles detection with personal style teaching
Stroke efficiency (SWOLF)
Automatic intervals
Dynamic lap table with stroke, pace and duration*
*Available in Movescount.com
**Available as a Suunto App