The Snugpak Venture Ranger Unisex Windproof TS1 Smock is a very practical warm but lightweight smock for use in cool weather conditions when you want protection from the wind and a top that is durable enough to cope with the abrasion from carrying heavy equipment such as body armour, a gun sling or a large packed backpack over your shoulder.
This smock is not only windproof but also water resistant thanks to its durable water repellent (DWR) finish, which causes water to ball up and roll off the surface rather than seep into the material.
TS1 in the name refers to the thermal suede lining of the jacket and the muff-style pocket. This fabric is soft to the touch and as the smock lining it wicks moisture away from the body.
Working in tandem with the TS1 lining, the Paratex Micro outer fabric is breathable so perspiration drawn from the surface of the skin by the TS1 can be dissipated into the atmosphere to help keep your torso drier and therefore more comfortable.
The Snugpak Venture Ranger Unisex Windproof TS1 Smock benefits from the provision of a range of storage options including a large front-centre pocket that is readily accessible and not compromised by the wearing of a harness or backpack.
The standard Snugpak version of this garment has a hood but here it has been removed and leaves a useful extra storage space for such items as a pair of gloves, a beanie hat or a scarf.
Typical Usage
HM forces
Reserve forces
Combined cadet forces
Range training days
Deployed military operations
Park rangers, game keepers
Fishing
Features
Windproof
Water resistant
Breathable
Moisture wicking
Lightweight
Comfortable
Durable
Unisex
Can be packed down and stored in own chest pouch
Low-visibility colour options
APALS soft hook-and-loop patches
Unit/name badge soft hook-and-loop patches
Large map chest pocket with internal D-ring
Large external pouch
Small external pouch
External D-ring for LED torch etc
Thumb loops
Hem and neck adjuster gives better fit, helping trap warm air and aid insulation
Quarter-length YKK zip helps trap warm air or ventilates
Soft armour panel (SAP) and hard armour plate carrier (PC) compatible
Customisable with effective layering for colder weather
Fabrics:
Paratex Micro (100% nylon) outer
TS1 thermal suede (100% polyester) lining
Paratex Micro fabric protects from windchill
Paratex Micro high moisture-vapour transmission rate helps keep you dry during activities
TS1 thermal suede is light, soft to touch and moisture-wicking
Colour options: Olive Green; Crye Precision Multicam
Manufactured in UK
Product Weight
490g / 17oz (Small)
510g / 18oz (Medium)
530g / 19oz (Large)
540g / 19oz (XLarge)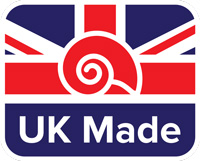 Proudly Made in the UK
Please note this product is made to manufacture and if shown as "Available for Order" will take an additional 10 working days from time of placing the order. If shown as "In Stock" the item is available for next day delivery.