The Mio Alpha Strapless Heart-Rate Monitor Watch marks a real breakthrough in heart-rate monitor technology because you can simply wear it on its own on your wrist without the need for the usual separate, fiddly and sometimes uncomfortable heart-rate chest belt or even a finger pad to record your pulse.
The Mio Alpha Strapless HRM is a high-tech continuous heart-rate monitor that accurately measures your heart rate during physical workouts including running and walking. It has been tested to be electro-cardiograph accurate at running speeds of up to 20 km/hour (12 mph).
The revolutionary Mio Alpha uses an electro-optical cell sensor and two lights located at the back of the watch to measure the pulse with the watch worn in the normal position. The signal is then converted by the Mio Alpha's sophisticated processor into easy-to-read information.
The Mio Alpha Strapless HRM incorporates a motion detector that works with the pulse sensor to filter out any disturbance created by arm movements while walking or running to give a very accurate heart rate even during intense physical activities.
The Mio Alpha is simple to work with as it uses just two buttons for you to navigate through the various displays which include continuous heart rate, user-settable heart-rate zones, data review (total exercise time, time spent in zone, average heart rate), stopwatch and time display.
Heart-Rate Zone Indicator
Coloured LED lights keep you in your intended target heart-rate zone.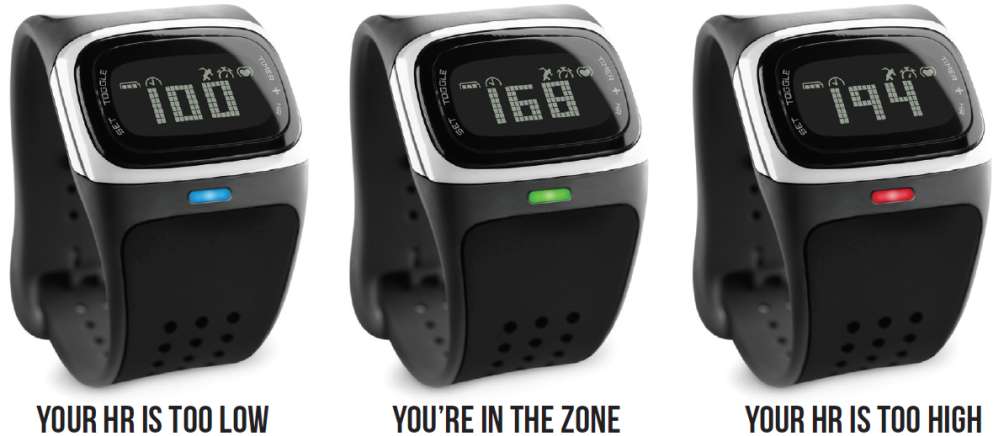 The ground-breaking Mio Alpha Strapless HRM puts an end to the need to wear what is now an old-technology heart-rate chest strap.
Features
Continuous heart-rate monitoring
No uncomfortable chest strap
Tested accurate at performance speeds
Bluetooth 4.0 Low Energy (BTLE) technology connects with compatible Smartphone Fitness Apps
User-settable heart-rate zones
Data review (total exercise time, average heart rate, time spent in zone)
Exercise timer
Clock
30-m water resistance
2-year warranty
Apps
Mio Alpha works with all Bluetooth 4.0 Low Energy (BTLE) compatible Fitness Apps including those for iPhone 4S & 5 such as Polar Beat (shown below). For other smartphones please check your preferred Fitness App works with BTLE on your smartphone before purchasing your Mio Alpha.
Bluetooth 4.0 Low Energy Compatible Devices
iPhone 5s, 5c, 5 and 4s
BlackBerry Q10 and Z10
Samsung Galaxy S4, S4 mini, S3 and S3 mini
Motorola Droid RAZR
Sony Xperia Series
For a full list of compatible devices, please follow the link to the Bluetooth 4.0 Low Energy website.
Specification
Soft silicone strap
Negative dot-matrix LCD
Intuitive 2-button navigation
Tri-colour LED heart-rate zones
Secure snap-latching system
Bluetooth 4.0 Low Energy (BTLE) wireless transmitter
USB charging dock with magnetic alignment
Rechargeable lithium polymer battery
What's in the Box
Package includes: Mio Alpha HRM sports watch, USB charging dock with magnetic alignment, user guide
Package does not include: A chest strap (not needed!)
Awards
Design & Engineering Award CES Innovations
Product of the Year ISPO 2013
Finalist in Wearable Technologies Innovation World Cup