SATMAP Active 10 Ultimate Sports GPS
Never get lost again! Like an electronic version of a dummies guide, the Satmap Active 10 is designed with the user in mind.
Easy to use and revolutionary - rarely are these two words spoken together. The Satmap Active 10 sets the benchmark for navigational devices, straightforward operation, effective design and most importantly no computer needed. Kiss goodbye to that A-Z atlas!
WATCH the Active 10 in use on video!
Plug and play mapping
So simple to use, no computer necessary, the Satmap Active 10 is the definition of Plug and Play. Maps are supplied on SD cards that simply plug straight into the Satmap Active10.
Absolutely no computer or other equipment needed (except some batteries and there are accessories you can opt for).
More than 150 map titles are currently available, covering the whole of Great Britain at 1:25,000 and 1:50,000 scales. The country has been divided up into logical regions, so whether you live in Shetland or St. Just, there is an SD map card for you.
Purpose-built for the great outdoors
Waterproof and shockproof, the Satmap Active10 is designed to be used outside not to be kept inside for fear of breaking. Featuring some of the most advanced navigation technology available, the Active10 puts a new spin on venturing out in the great outdoors.
Electronic compass
Direction indicator
On board route planning
Map orientation
Version 1.4 Software offers many new features and functions including:
Geocaching: Geocaching with the Active 10 is now even easier, it is now possible to download caches from sites like Geocaching.com complete with the full set of hints and tips.
Google Earth: Google Earth is a great resource and now the Active 10 can interact with it more effectively, allowing routes to be created, downloaded and uploaded between Google Earth and the Active 10.
Map Toggling: Satmap has always been able to display multiple map scales, though on previous versions of software, these maps were viewed by zooming in and out, now Satmap has introduced the Map Toggle feature. The Map Toggle feature allows users to toggle between different maps available at the point with a click of a button without zooming.
Track Up: For users who like to orientate the map to the ground, the Track Up feature is invaluable. V1.4 now moves the 'You Are Here' location point towards the bottom of the screen, thereby allowing users to see more of the map ahead. Additionally, users can now use Planning Mode when using a map in the Track Up display.
Hibernate Mode: Many users just want to see where they are on a map without logging a snail trail. Hibernate Mode allows users to do just that and in so doing gives the added benefit of huge power savings. With the device in Hibernate Mode, it stores the satellite data for up to 8 hours and leaves the operating system on stand by. When users want their position, they press the On button and are presented with an instant map screen and a position fix in a few seconds. A unit on "stand by" will give over 100 hours of usage.
Red Light Option: For users who are keen to protect their night vision, V1.4 now offers a red light option on the backlight. For those who prefer the normal backlight, there are now much lower settings, ensuring you are maximising battery life.
Routes & POIs: A new option allows users to hide inactive routes more effectively without cluttering the map, the new folder structure makes storage of routes easier. POIs now come with a library of different icons, making it much faster to identify POI types.
Distance Measuring Tool: It is now easier to calculate the distance between two points on the Active 10, the Mark function allows users to establish the distance and bearing between any two points, no matter how remote.
WAAS / EGNOS Enabled: Where available, the accuracy of the Active 10 is now enhanced by WAAS / EGNOS compatibility, which is indicated on the unit by the satellite lock changing from green to orange.
Features
| | |
| --- | --- |
| | Real Maps - A wide range containing high quality Ordnance Survey supported maps. |
| | Clear Navigation - The intelligence of the Active 10 makes finding your way simple. |
| | Trip Statistics - Automatically records your route data, so you always know where you've been. |
| | Personal - Add favourite places, POIs & other important data. Share via the internet with other users. |
| | Electronic Compass - Internal electronic compass works like a standard compass. |
| | Internet Links - Connect via USB to download maps or share content. |
| | International Maps - A wide & growing range available. |
| | Guide Book - Multi-media POIs bring your routes to life. |
| | Easy to use - No computer is needed, just insert a map & go. |
Dimensions
Height: 13 cm
Width: 7.5 cm
Depth: 3 cm
Weight: 185 g
Please, click to resize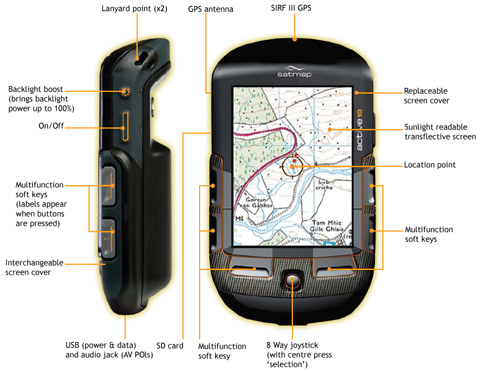 Technical Specifications
Toughened, impact-resistant ABS casing with all weather capability
Day/night functionality
SiRF Star III GPS Receiver
Integrated 18mm Patch Antenna
In-built 2 Axis Electronic Compass
3.5-inch LCD TFT Backlit Colour Screen
Microsoft CE Operating System
In-built Lithium Polymer battery charger
Power source options:
- 3 x AA size standard Alkaline batteries
- Large 3.7v/2900 mAh Lithium Polymer 'smart' battery
- 240v/120v mains supply
- 12v DC vehicle (cigarette lighter)
Dual-Function USB 2.0:
- Power input
- Data transfer via PC
SD Card Reader – allowing expandable memory (of up to 4GB currently) (Note: memory only limited by capacity of available SD cards)
ARM 9 Processor
In-built Multi-Media Player
128 MB RAM
Interchangeable case-back allowing various ancillary options:
- Various power options
- Spare SD Card Storage
- Upgrades for future functionality.
Interchangeable covers (allowing sub-branding/event-branding
Full GPS Functionality (Real Time Clock, Logging, Waypoints, Time etc.)
On board performance statistics logging (uploadable to PC)
On board route planning and waypoint establishment capability
Map data sourced from Ordnance Survey at:
- 1:25,000 Explorer series
- 1:50,000 Landranger series
- Meridian 2 Vector mapping dataset
Full UK Road Maps available:
- Pre-loaded on Active 10 GPS unit
- Supplied as standard
- 'Vector' map data type
- Highly detailed (minor roads; road names; rail, waterways, rivers and coastlines fully marked)
- Standard map colouration for ease of use
Maps on Pre-loaded SD Cards:
- All UK National Parks sold via retailers at launch - Two map scales on SD Cards: 1:25,000 and 1:50,000 map scale of each Park - 'Raster' map data type with full image reproduction
Maps sold as Internet Downloads:
- Specialist maps available from Satmap website
- Users can download onto their own blank SD Cards
Multi-stage zoom and rapid pan facility
Aerial photography/satellite imagery compatibility
Maps overlaid with GPS data ('You Are Here' icon and 'Snail trail' illustrating route taken)