OutdoorGB Endurance Athlete - Louis Supple
Louis is a traveller, adventurer and endurance athlete. He's run and skied thousands of kilometres through the most inhospitable climates on earth pushing him to his physical and mental limits. Not only inspired by the nature he experiences and the sense of adventure he feels, Louis' challenges are made all the more meaningful by his goal to raise awareness on climate change.
In 2015 Louis set himself the challenge of running ultra marathons in the desert, mountains, jungle and arctic. Fast forward five years and he has achieved his goal.
Travelling to Morocco to compete in the Marathon des Sables, Louis overcame extreme desert heat to run a 250km ultra-marathon across the dunes of the Sahara. In the same year, he competed in the Everest Trail Race, a high altitude 160km ultra-marathon that winds through the Himalayas. Louis later travelled to Peru to run the Jungle Ultra, a 230km ultra-marathon held deep in the Amazon Rainforest where humidity reached 90%, and recently finished fifth in The Ice Ultra, a 230km ultra-marathon through the extreme cold of the Arctic.
Many of Louis' races require him to be self-sufficient, carrying everything he needs to survive - living in these extreme environments - in his backpack.
The Svalbard Expedition marks the latest adventure. Skiing self supported across Svalbard, an archipelago in the high arctic not far from the North Pole, Louis must overcome polar bear encounters, arctic storms, and crevasses, in an attempt to ski 200kms from the east coast of Svalbard to the west coast.
Louis must overcome polar bear encounters, arctic storms, and crevasses, in an attempt to ski 200kms from the east coast of Svalbard to the west coast.
Crossing this cold, windswept and inaccessible environment in the far Arctic North, halfway between the northernmost tip of Norway and the North Pole, requires extreme determination and fitness.
A harsh and dramatic island, the mountain ranges are vast, varied and primarily covered in glaciers and permanent snow… few places have a more dramatic nature.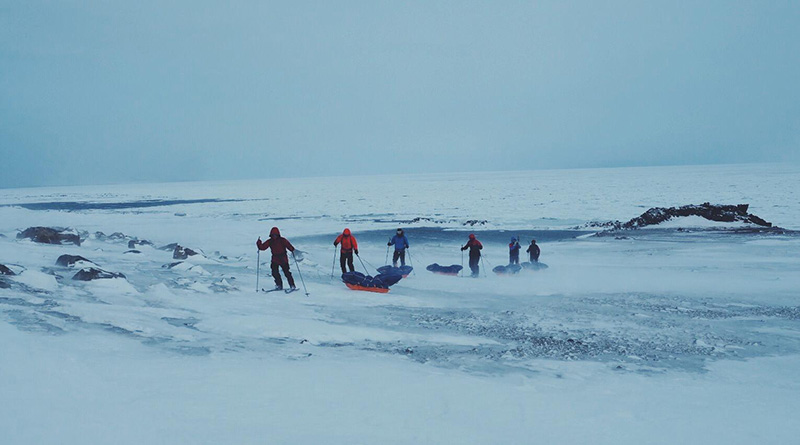 Louis plans to cover 200kms skiing from coast to coast and hopes to complete the expedition in 11 days.
The isolated landscape demands that Louis be completely self-sufficient - he will drag his tent, sleeping bag, food, stove and clothing in a pulk (Nordic sled) weighing around 75kgs. Each night, setting up camp requires at least 3 hours work, maintaining skis, putting up the tent, melting snow for water and fixing polar bear deterrents.
Raising awareness on climate change is one of Louis' key reasons for the trip. It is saddening to think that this beautiful Arctic archipelago and the wildlife that call it home may not exist in 50 years - climate change is melting Svalbard's glaciers at an alarmingly rapid rate.
OutdoorGB are proud to support this epic expedition, good luck Louis!
Sleeping in remote glaciated mountain terrain, 100s of kilometres away from civilisation, polar bears and arctic storms pose a very real threat to Louis and his team. Weather conditions can change rapidly and the temperatures can drop as low as -30C, making preparation and correct, high-quality equipment a vital necessity.
OutdoorGB have teamed up with suppliers such as Berghaus, Salomon, Suunto, Exped, Sealskinz and Helly Hansen to provide Louis with cutting edge, high performance equipment.
Louis' Essential Kit-List