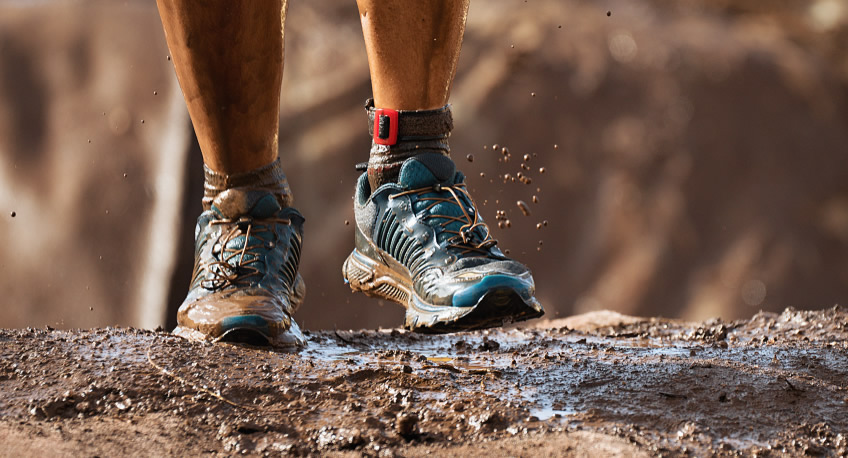 Trail running shoes empower you to push through dirt, gravel, mud, roots and rock. They're packed with technology to absorb shocks, gain traction and deliver stability - so when you're buying your shoe there are multiple factors and a lot of options to consider. This guide will help you to identify the shoe that truly allows you to push your potential on the trail.
There are three key components that distinguish a trail ruining shoe from a road/ track shoe; support, protection, and grip.
Stiff support: Trail running shoes often have a stiff construction designed to prevent your foot from over-rotating on uneven surfaces. The trail is not a lab - strides need to be adapted to optimize foot placement, so your foot's interaction with the ground is unique every step. This means, unlike road and trail running shoes, you don't need to worry about your pronation.
Protection: Stiff, durable soles and toe plates prevent toes and feet from bruising whilst allowing you to spring off irregular surfaces. Durable uppers will persist through shrubbery, thorns and other forms of abuse.
Grip: Traction bumps on the outsole known as lugs allow you to gain maximum traction on surfaces from dirt and mud to rock and root. The size, depth and direction of the lugs depend on the terrain you plan on attacking.
Cushioning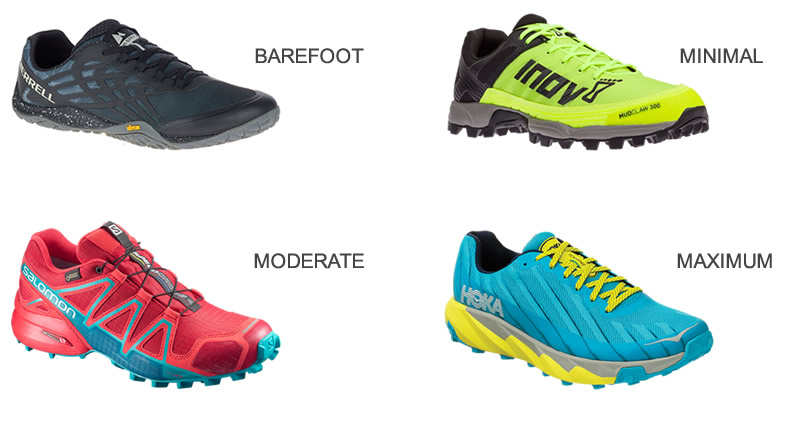 Cushioning - also known as 'stack height' - ranges from "feel" with little to no padding to "float" with a high degree of padding. Beginners, heavier runners and long-distance runners will benefit from more cushioning. Beyond this, there's no conclusive answer as to whether more or less cushioning is better - it's all about personal preference.
Barefoot: no padding shoes allow for a natural feel of terrain and, proponents argue, engage more muscle groups than traditional shoe cushioning.
Minimal: a step up from barefoot shoes with an element of midsole cushioning whilst providing excellent feel for terrain.
Moderate: mid-range shoes that have enough padding for comfortable running across uneven terrain whilst retaining a degree of feel.
Maximum: provide a high degree of cushioning in the midsole. This absorbs more impact and so is easier on the joints, however limits your ability to roll onto your toes when your running and so is less natural.
Heel-to-toe Drop

The heel-to-toe drop is the difference between the height of the heel and forefront of the shoe.
A large heel drop will force you to run on your heels - the wedge under your heel will hit the ground first. A small heel drop, on the other hand, will force the strike of your foot to be further forward, resulting in greater stability in your stride and engaging more muscles. However, no 'drop' is likely to feel uncomfortable and risk injury for most runners - so it's important to find the balance that is right for you.
If you are looking to transition to a more minimalist style, this is a slow process that has been likened to re-learning running - so be sure to take it slow.
0-mm drop shoes are appropriate for those that strike on their midfoot or forefoot. Although this offers great benefits, it takes considerable time and discomfort before your body adjusts to the 'flat feel'. These shoes can still have high degrees of cushioning.
4-mm shoes will still feel very flat for most runners, catering mostly for midfoot strikers, with little to no obstruction from the heel
8-mm shoes offer more of a compromise, encouraging a midfoot strike but with some support from your heel. This is often a good place to start if you're looking to move toward a smaller drop.
12-mm shoes are popular with those that land hard on their heels. Although it is possible to achieve a midfoot strike in this shoe, the heel will disrupt your ability to do so.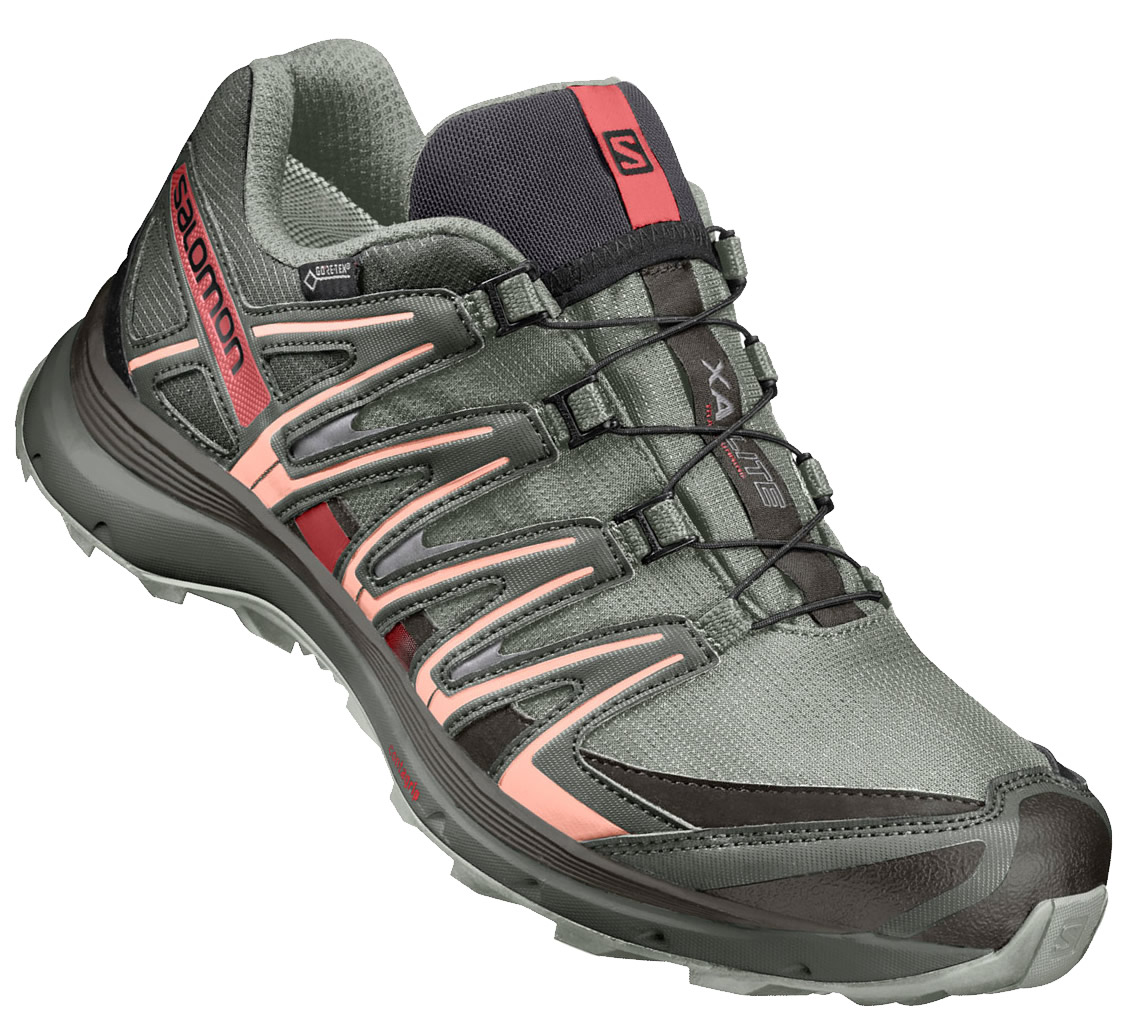 Path and light trail
Path and light trail shoes are designed for relatively consistent surfaces such as well-trodden paths and fields. Characteristics of this shoe include:
Mid-range protection and stiffness to encourage stable grounding
Lightweight and flexible
Outsoles with shallow lugs designed for maximum traction on compressed soil and rock
Breathable uppers to allow moisture to escape
Midsole cushioning varies depending on preference on impact absorption vs. natural feel - however as the terrain becomes more compressed more cushioning will help absorb the sharp impact.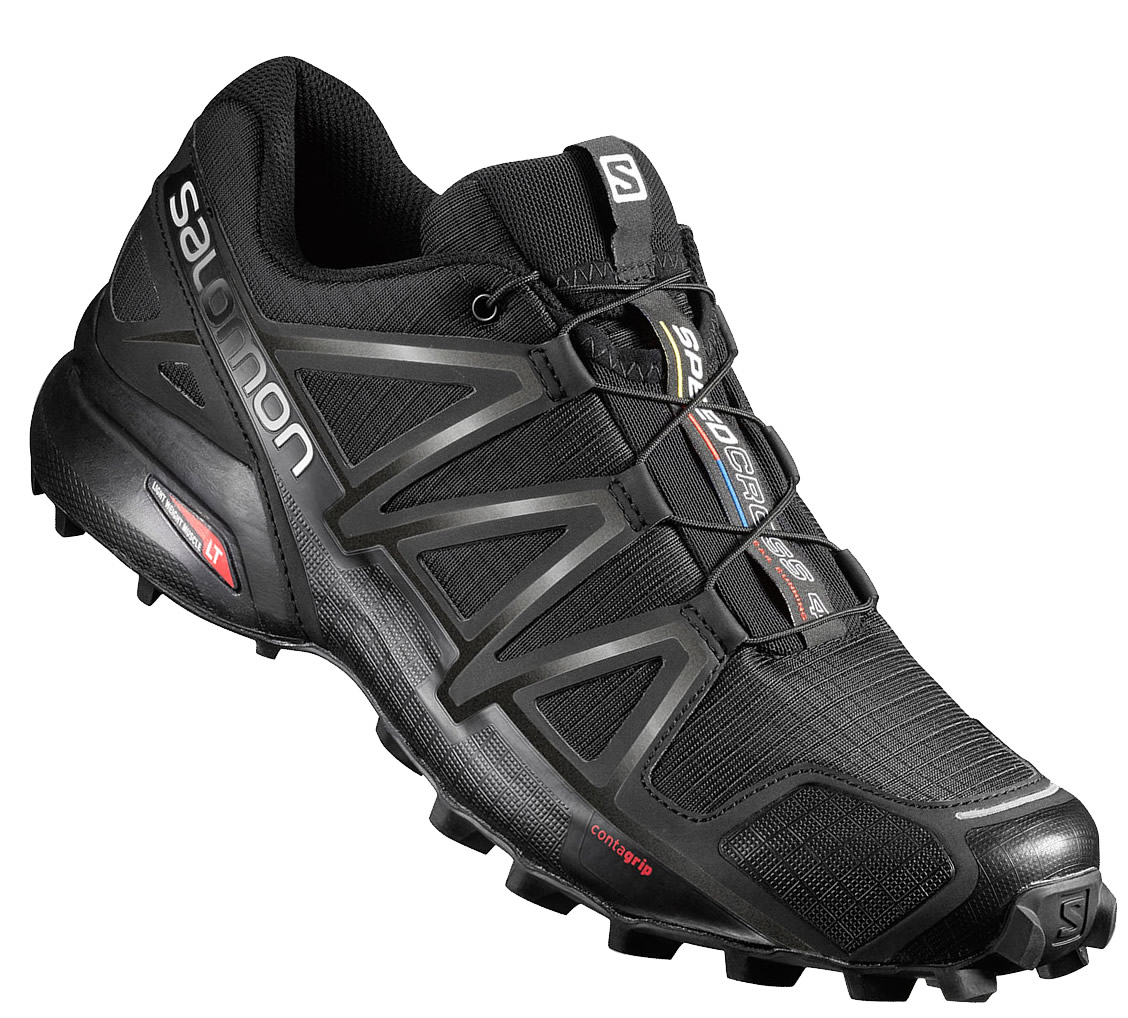 Rugged trail
Rugged trail shoes are designed for running across uneven paths with roots, rocks, mud and gravel, and so cover a broad range of different surfaces. Characteristics of this shoe include:
Stiff and supportive uppers to stabilize the foot despite loose and irregular surfaces
Midsole cushioning to absorb the impact from steep descents
Toe guards and rock plates - plastic placed between the midsole and outsole - to protect the feet from uneven rocks and roots
Deep multidirectional lug patterns with wide spacing to allow mud to fall from the sole
Outsole material depends on preference of grip offered by soft rubber vs. durability offered by hard rubber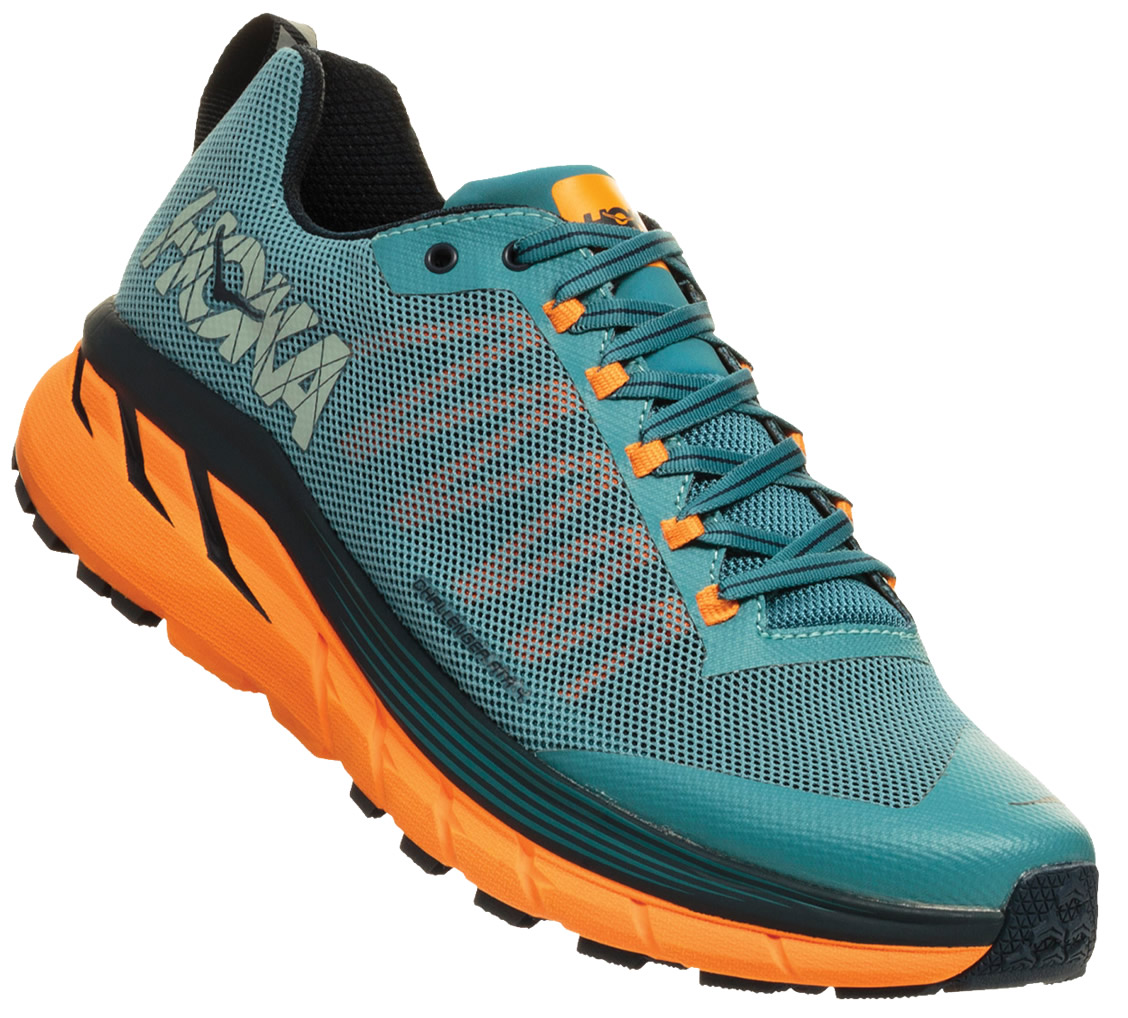 Mountain and off-trail
Mountain and off-trail shoes have been designed for the most rugged and brutal terrain.
These are hardened version of rugged trail shoes with more resilient materials, a stiffer construction, and more waterproofing. This includes more ankle support, deeper lugs, and stiffer midsoles.
Some use mountain and off-trail shoes as day hiking shoes. These are likely to be light-weight, breathable and less expensive alternatives to hiking boots, but as distances and pack weight increase they lack comfort and support.
Tip: The right socks allow you to react to changing conditions - if it's a warm day then breathable socks are great, if its very cold or wet then waterproof socks will help mitigate these conditions.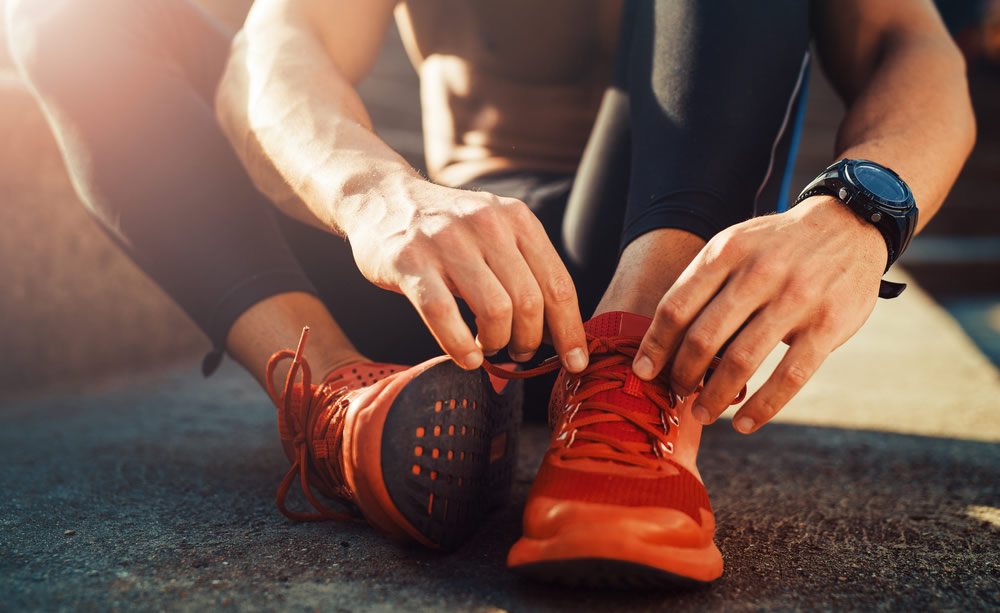 Comfort is king and fit is the key to comfort: here are some tips to get the correct fit:
Check the brand-specific size chart on our product page before you buy - sizing is not uniform across the brands
If you've found one brand very comfortable in the past, it's a good idea to stick with them in the future
Allow a thumbs-width (equivalent to 1 UK size) of extra room for your toes - this may feel odd at first, but you'll need the space if you plan on making steep descents
Apart from the toes, the shoe should be snug everywhere but tight nowhere.
Make sure the shoes are comfortable with your favourite pair of running socks - and if you're struggling to find shoes that fit your foot perfectly, a specialized running sock may allow you to do so.
It's easy to get sentimental about your trail running shoes after all they've been through with you, but they will need replacing in around 300 - 500 miles - which is about four to six months for someone running 20 miles per week. We hope that the information in this guide will give you the knowledge you need to choose a shoe that allows you to unleash your potential on the trail - and we look forward to seeing you there!