The Snugpak Tactical 2 Sleeping Bag is a lightweight two season sleeping bag designed with service personal in mind but sacrificing none of the comforts expected of a civilian sleeping bag.
The outside fabric is Paratex Steelplate, an extra tough ripstop material capable to taking rough usage, and the filling is Snugpak Softie Premier, giving you that Snugpak warmth whilst cutting down on the cold spots that might develop over time with other fillings.
Utilising Snugpak Reflectatherm technology which keeps you at least 15% warmer, with a metallised barrier reflecting heat back at the user, the Tactical 2 Sleeping Bag gives a surprisingly lower temperature rating than might be expected from such a lightweight sleeping bag.
Specification
Length: 220 cm
Width (chest): 75 cm
Width (knee): 60 cm
Width (foot): 42 cm
Zip: Left- and right-handed versions available
Fill: Softie Premier Reflectatherm
Materials: Paratex Xtreme, TS1
Pack size dimensions: 17 x 18 cm
Temperature: Comfort: 0°C; Low -5°C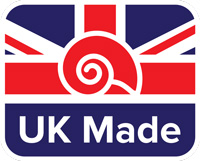 Proudly Made in the UK
Please note this product is made to manufacture and if shown as "Available for Order" will take an additional 10 working days from time of placing the order. If shown as "In Stock" the item is available for next day delivery.
Zips
A left-handed sleeping bag has the zip on the left when the user is in the bag and lying on their back. Most right-handed people therefore find a left-handed bag easier to unzip when inside the bag.
Stuff Sack
All Snugpak sleeping bags are supplied together with a compression stuff sack. The pack size dimensions where shown for each sleeping bag are for the fully compressed size, which involves compacting the bag itself as it is fed into the stuff sack and then using the compression straps and some physical exertion to reach the minimum size.
Snugpak Washing
Snugpak do not recommend using a top loader washing machine with agitator because the agitator may damage the fabric or insulation. A front loading washing machine or hand washing is considered appropriate for washing Snugpak products.
Snugpak recommend that you wash any of their products on a LOW temperature setting with non-bio liquid detergent and no fabric conditioner.
Drying Snugpak products on a washing line is recommended. They can be tumble dried but only on a LOW setting otherwise the fabric may melt.