Product description
Reviews
Returns policy
Thirsti Puck Hydration Tracker
Drop the Puck into your bottle, track what you drink and get reminded to drink when you forget.
Your personal hydration coach
Over 99% of people in the UK do not drink the recommended amount of water that they should. Meaning most of us spend our day chronically dehydrated.
The Puck creates a personalized hydration target and helps you reach it all day long.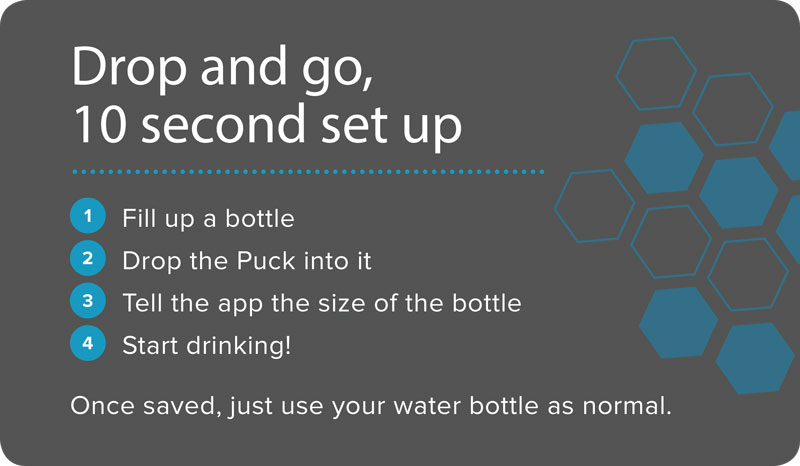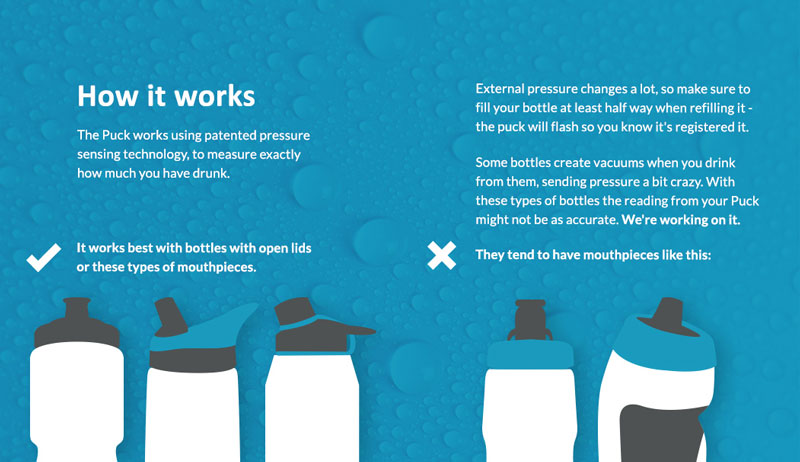 Hydration benefits
Boosts physical performance
Reduces fatigue and tiredness
Encourages weight loss
Improves your complexion
Your Personal Hydration Coach
The Puck tracks what you've drunk
Monitors when you forget to take a sip
Glows to remind you to drink before you get dehydrated
It's Personal
Everyone's different and has different needs. The thirsti app tailors a daily hydration target specifically to you.
By the time you're thirsty you're already dehydrated.
Less than 1% of people in the UK drink enough water. Thirsti has developed the Puck to change this by making users aware of their hydration needs and then helping them meet them, easily. Dubbed the 'fitbit of hydration' – the Puck will gently change user habits so that they maintain proper hydration. Simple habit formation.
The Thirsti Puck stops you from getting dehydrated and trains its users to drink more water and avoid dehydration through a combination of gentle glowing reminders and simple app alerts. The app determines how much you should drink based on some basic metrics like age, weight, height, gender and activity level. The Puck will then track how much you're drinking at the source, alerting you to drink before you get dehydrated. Over time, users begin to drink more water without being prompted.
Left your phone at home? No Problem
Let's not link good hydration exclusively to our phones. We've designed the Puck to be as autonomous as possible. So, once its set up with the app, you can leave your phone at home and still get reminded to drink all day long (works up to 8 hours without a phone).
Drop and go, 10 second set up
Fill up a bottle
Drop the Puck into it
Tell the app the size of the bottle Start drinking!
Once saved, just use your water bottle as normal
App Features
Recommended daily target
See your hydration history
Water temperature
Locate your puck on a map
Stale water reminder
Technical Specifications
System requirements: iPhone, 6, 6s, 6+, 7, 7+ and 8
4 month replaceable battery life
Packaging contents: One Puck, One CR2032v battery (installed) and one info leaflet
Product warranty: 1 year