The Snugpak TS1 Sleeping Bag Liner is a very effective way to boost the warmth of your sleeping bag when the night-time temperatures fall, perhaps extending the use of your sleeping bag into another season.
The thermal suede (TS1) fabric is actually warm to the touch so it is natural that it would very effectively contribute to the warmth of the sleeping bag itself and therefore to your overnight comfort.
This makes the Snugpak TS1 Sleeping Bag Liner the ideal accessory when camping in colder climates.
Thermal suede is a high-tech raised polyester which features micro-fine hairs within the fabric that attract moisture and draw it from the surface of the skin into the wicking core of the knitted fabric for increased comfort for the user.
The Snugpak TS1 Sleeping Bag Liner is easy to care for and will not burden your load as it weighs just 320 grams in its own stuff sack.
Specification
Fabric: TS1 thermal suede
Weight: 320 g
Manufactured in UK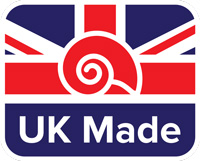 Proudly Made in the UK
Please note this product is made to manufacture and if shown as "Available for Order" will take an additional 10 working days from time of placing the order. If shown as "In Stock" the item is available for next day delivery.