Deuter Carrying Info
Well packed is only half the job
The closer the load is positioned over the body's centre of gravity, the easier it is to carry. This fact affects the backpack shape and the carrying system. A narrow packsack and a back-hugging back system are therefore ideal. To fully benefit from this design, your backpack must be also correctly packed and adjusted to fit.
Packing
Your sleeping bag, down clothing and other lighter items belong in the bottom compartment, towards the outside. Heavy items should be packed close to the back and at shoulder height. Small items are conveniently placed in the top lid so they are quickly accessible. Now you have the centre of gravity close to your body.
Fitting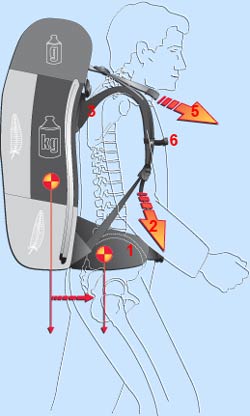 Place a realistic load in the backpack.
First loosen all straps. Shoulder the backpack, position the hip belt and tighten. In doing so, the middle of the hip belt should lie over the hip bones, not above because that could constrict the stomach.
Tighten the shoulder straps, however not too much because the hip belt should carry most of the load.
Check the position of the shoulder straps. The position of shoulder strap mounting should be between your shoulder blades, and the shoulder straps should smoothly follow the curve of your shoulders. If this is not the case then choose the right back length (S or L) on our smaller volume packs, or adjust the back length on the larger models with the Vari-Quick System. To adjust this position
simply undo the Vari-Quick Velcro closure and thread the Velcro strap through 4 suitable attachment loops. Tighten the Velcro strap and fix the Velcro closure
Then tighten the hip belt stabiliser straps, if fitted, and also tension the shoulder stabiliser straps to pull the load closer to your back and your centre of gravity. Tighter adjustment for rugged terrain and looser adjustment for easy terrain or better ventilation.
Finally, close the sternum strap to improve the fit of the shoulder straps.